IoT sessions on design and security steal the show at the 2nd day of IEW '18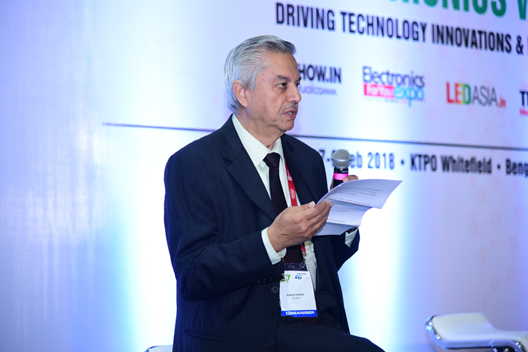 IOT SESSIONS ON DESIGN AND SECURITY STEAL THE SHOW AT THE 2ND DAY OF IEW '18
IoT sessions on design and security steal the show at the 2nd day of IEW '18
Today marks the second day of the third edition of India Electronics Week and second edition of EFY Conferences. After a successful first day, day-two also offers discussion sessions on some of the hottest topics in the industry today. The day started off with a panel discussion on a major subject – "The security threats in IoT paradigm – a hype or a scary reality?"
Today marks the second day of the third edition of India Electronics Week and second edition of EFY Conferences. After a successful first day, day-two also offers discussion sessions on some of the hottest topics in the industry today. The day started off with a panel discussion on a major subject – "The security threats in IoT paradigm – a hype or a scary reality?"
Narang N Kishor, founder, Narnix Technolabs Pvt. Ltd and chairman of LITD 28 on smart infrastructure, Bureau of Indian Standards, took the stage as the moderator. The panel including imminent industry personalities including Deepu Chandran, Technical Manager, Ldra Technology Pvt Ltd.; Benoy CS, Director,Digital Transformation(ICT) Practice, Frost & Sullivan; Sunil David, Regional Director (IoT) For AT&T India; Tulika Pandey, Director, Computer Emergency Response Team – India (CERT-IN), Ministry Of Electronics & Information Technology; Sivakumar Natarajan, Global Practice Head Of Digital, Manufacturing and Technology Strategic Business Unit, Wipro; Venkatesh Kumaran – Senior Director, ARM.
IoT deployments are quite vulnerable to security threats, if it is not thought out carefully. The panelists answered a major query each IoT design engineer might have – how much security is optimum for their products? The panel discussion provided a 360-degree view of security implications in various aspects of the IoT paradigm.
The panel discussion was followed by a fruitful session on IoT practices. Sapna Mongia, Head -Smart Grids and Metering, South Asia, Power and Discretes, STMicroelectronics, spoke on the topic 'Adopt the best IoT practices from around the world for smart cities'.
Once more relevant to IoT security, KTPO witnessed another beneficial talk session. The topic of the discussion was – 'Secure and Cost-Effective Connectivity Through Esim As An Iot Enabler'. The focus of the session was on explaining the advantages and benefits of eSIM. The key take-away for the the attendees, espcially IoT business decision makers, were an understanding how eSIM can help them, knowing the complete architecture of eSIM and roles of each entity involved and how SIM is an IoT enabler to help future growth. Speakers also shared market research predictions of eSIM in IoT.
Any kind of progress in technology and business will need to be legally affirmed. The IoT-world today which can collect and connect to every bit of information surrounding us, may require legal restrictions. To answer all the doubts in this vertical, another panel discussion was arranged today. Moderated by Advocate Biju K Nair, the topic of the session was 'Integrating the IoT ecosystem: The legal regime". Industry experts who starred the panel included Mr. Dorairaj Vembu, Sasken Technologies; Mr.Srinivas Poosarla, VP and Head of Global Privacy and Data Protection; Wg Cdr Sivarama Krishna Prakash (Retd), Senior Corporate Counsel Cisco Systems and Amit Chatterjee, Product Marketing, IOTG, Intel. The panel spoke about the various legal implications involved in various IoT ecosystems – smart cities, healthcare, homes or industrial. The shared essential information on how the legal criteria may induce market-specific effects and how to comply to them.
The final discussion session of the day covered the topic 'How to find areas that are low risk and high value for iot applications'. The speaker of the session, Hrishikesh Kamat, CEO, Shalaka Connected Devices, shared his experiences of implementation of IoT for complicated use cases, how that posed as a challenge and how the simpler solutions were formulated. He provided golden advices to businesses for identifying and implementing simple and practical use cases to begin with. Decision makers who attended the session, received major success tips that could be achieved with minimal business risks.
Apart from the discussion sessions, IEW'18 organised some of the best workshops. The first workshop was 'Make your first IoT product', that taught the attendees to practically build a working IoT prototype. It explained the workflow of IoT product development and gave hands-on practice to the participants. The Intel team conducted and industrial IoT workshop. Viewers were given first-hand knowledge on making real IoT products that sell. The workshop deepdived into the importance of hardware in IoT and displayed the essentials of a complete electronic hardware design for a commercial IoT product. There was one more fascinating workshop surround IoT applications. The subject of the workshop was 'How to obtain seamless device connectivity with iotivity and zephyr and how to design your own iot applications'.
All the sessions and workshops were packed with attendees. The amount of information generated throughout the day were of high quality and sufficiently effective to help business decision makers drive towards success.
With one more day of the spectacle that is IEW'18 left, attendees have had a great experience so far. We are yet to see what unfolds tomorrow.
About IEW
India Electronics Week (IEW) is a week-long international event held in Bengaluru to promote the Indian electronics industry.
It's a mega event, where the global electronics industry comes together in India. This year IEW is being conducted from February 7th-9th, 2018, at the Karnataka Trade Promotion Organisation (KTPO), Bangalore. Five events are held together under the banner of India Electronics Week this year. These are:
IoTshow.in (3rd edition)
EFY Expo (8th edition)
LEDasia.in (3rd edition)
Test & Measurement India (7th edition)
EFY Conferences (6th edition)
For more information about IEW visit: www.indiaelectronicsweek.com
About Electronics For You
The EFY Group's first magazine, Electronics For You, or EFY, was launched in January 1969, when the Indian electronics industry was still at a nascent stage. Today, it has grown into South Asia's most popular electronics magazine. In fact, EFY Group, which now owns a collection of media properties, has been named after this flagship brand.
The magazine's goal is to keep the electronics fraternity updated with the latest in technology. It also keeps hobbyists busy with the circuit ideas and construction projects it features month after month. And it helps end consumers decide on which electronic product to buy when they enter a shopping mall. The DVD that accompanies each issue of this magazine carries a host of useful software and tools.