IEW 2018 wraps up: ESDM sector urged to shift from 'Make in India' to 'Design in India'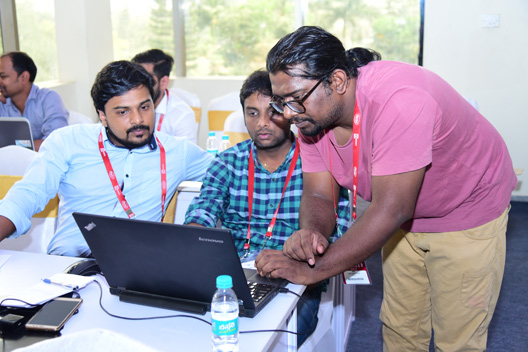 IEW 2018 WRAPS UP: ESDM SECTOR URGED TO SHIFT FROM 'MAKE IN INDIA' TO 'DESIGN IN INDIA'
The final day of the successful India Electronics Week '18 opened with a constructive panel discussion on 'Empowering the ESDM and IoT Ecosystem to Monetise'. Narang N. Kishor, Founder, Narnix Technolabs Pvt Ltd took the stage as the moderator of the session.
Experts from across industries joined the panel to share their knowledge and opinions. The panel included P.V.G. Menon, president and CEO, VANN Consulting Pvt Ltd; Sanjeev Keskar, MD India at Arrow Electronics; Satish Jamadagni, VP, NPE, Reliance Jio; Amarjeet Kumar, CTO and MD – Procubed Inc.; Satya Gupta, CEO, SenZopt; Anuj Ashokan, manager – IP core, VAS planning and network planning, Tata Teleservices Limited and Sukanto Aich, senior director, Philips Lighting India.
The discussion focused on the building blocks of structured and comprehensive innovation encompassing design in India. The panelists spoke about the evolving ecosystem for entrepreneurs and startups, capacity building and skills development, creating excellence in innovation, patents, IPR and monetising patents. They discussed the several challenges affecting the ecosystem and how to rise above them.
Keskar of Arrow Electronics said, "Whenever you are developing any solution, get to know the market first. Talk to potential customers, know the bill of materials (BOM) and then jump into the bandwagon. Do not create a white elephant without knowing the market well and developing solutions just like that."
He further added, "IoT is the next big revolution that is going to change the industry at large. The ESDM sector is also being impacted by this."
P.V.G. Menon shared some golden advice, saying, "Do not just manufacture products. Create a value proposition. The ESDM sector is changing and IoT will reshape manufacturing – be it a chip, machinery or any such product. The industry needs to accept this change positively and walk hand-in-hand. There is no product left untouched by India – be it embedding the chips or creating a complete design. India has a major role to play in manufacturing. It's time to shift from 'Make in India' to 'Design in India'."
The panel generated insights of great value for members of the ESDM ecosystem. Following the opening panel discussion, a seminar was conducted by ELCINA on 'Emerging trends and technologies in components.' The seminar covered important industry subjects. Subhash Goyal, MD, Digital Circuits Pvt Ltd, expressed, "We are here to support emerging trends in electronics and this is the second birth of the electronics industry with initiatives like Make in India."
The first topic of the seminar was 'Technologies for green components and e-waste management,' illustrated beautifully by Dr Sandip Chatterjee, director, Ministry of Electronics and Information Technology, Government of India. He said, "We have schemes for encouraging the filing of patents, R&D deployments, as well as design and application development. India is a space for opportunity." Chatterjee further added, "The new range of super capacitors, carbon aerogel and aero capacitors will be a game changer, for which there will be huge demand."
Dr Vijay Mishra, CTO-CeNSE, Indian Institute of Science (IISc), discussed the development and applications of new sensor technologies. Hari Krishna Purvankara, CEO, BlackPepper Technologies Pvt Ltd, provided insights on designing semiconductors for emerging sectors such as IoT, artificial intelligence and electric vehicles. Anil Bali, CEO, Deki Electronics Ltd; Amulya Kumar Mohapatra, HoD (Production), AT&S India Pvt Ltd and N. Balakrishnan, MD Epcos India spoke on passive components and printed circuit boards.
Attendees got a chance to participate in some interesting and productive workshops on the third day. The many workshops focused on different topics. The first workshop was titled 'Perform hardware reverse engineering.' It was divided into two slots that offered participants great practical insight into hardware reverse engineering. The next workshop focused on 'Get started with AI, robotics and Arduino'. Following this were three more interesting workshops. The first one taught attendees how to build chatbots. The next session provided hands-on knowledge on 'End-to-end vehicle diagnostics.' The final workshop was an intriguing session on 'Running Alexa on microcontrollers.'
The third day of IEW'18 wrapped up having registered impressive footfalls. KTPO became a centre of knowledge, learning and innovation – that benefited experienced industry players, business decision makers, aspiring entrepreneurs and technology enthusiasts alike. With all the success IEW'18 saw, the team pledges to be back next year – bigger, better and even smarter!
About IEW
India Electronics Week (IEW) is a week-long international event held in Bengaluru to promote the Indian electronics industry.
It's a mega event, where the global electronics industry comes together in India. This year IEW is being conducted from February 7th-9th, 2018, at the Karnataka Trade Promotion Organisation (KTPO), Bangalore. Five events are held together under the banner of India Electronics Week this year. These are:
IoTshow.in (3rd edition)
EFY Expo (8th edition)
LEDasia.in (3rd edition)
Test & Measurement India (7th edition)
EFY Conferences (6th edition)
For more information about IEW visit: www.indiaelectronicsweek.com
About Electronics For You
The EFY Group's first magazine, Electronics For You, or EFY, was launched in January 1969, when the Indian electronics industry was still at a nascent stage. Today, it has grown into South Asia's most popular electronics magazine. In fact, EFY Group, which now owns a collection of media properties, has been named after this flagship brand.
The magazine's goal is to keep the electronics fraternity updated with the latest in technology. It also keeps hobbyists busy with the circuit ideas and construction projects it features month after month. And it helps end consumers decide on which electronic product to buy when they enter a shopping mall. The DVD that accompanies each issue of this magazine carries a host of useful software and tools.