3rd edition of IEW paints a positive picture for India's electronics industry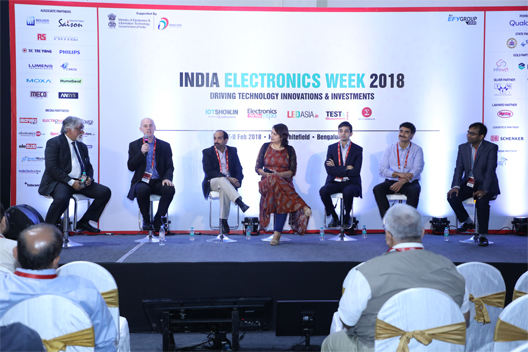 3RD EDITION OF IEW PAINTS A POSITIVE PICTURE FOR INDIA'S ELECTRONICS INDUSTRY
The third edition of India Electronics Week (IEW) 2018, one of the largest global event to promote Indian electronic industry, starts today at the Karnataka Trade Promotion Organization (KTPO) in Bengaluru. The event is scheduled from February 7th – 9th, 2018 and brings five shows and conferences together which includes: Electronics For You Expo, Test & Measurement India, LEDasia.in, IoTshow.in and the EFY Conference.
The three-day mega event is organised by EFY group and is supported by the Ministry of Electronics and Information Technology (MeitY). The theme for this year's IEW is "Driving Technology, Innovation & Investment for Smart Products".
Ramesh Chopra, Founder and Chairman, EFY Group welcomed the dignitaries with his inaugural address. He said, "The world is moving quickly and many of us are finding it difficult to keep pace with it. At IEW this year, our focus will be on Internet of Things. IoT is a vast field which tends to connect the entire world alongside human beings. There is great expectations from IoT. We have gathered here today to see how best we can make use of this technology".
He further added, "India's production of electronic goods has surpassed its previous growth figures in the year 2016-17, which is indeed a great achievement. It ushers in a new relief for the country. It shows that India's effort to promote Make in India has started well. This shows that India is capable of achieving manufacturing base in India and take the country to a whole new level".
The opening ceremony was marked by the IoT CEO Summit. The topic of the panel discussion was "The Disruptive Technologies: The new Normal". Key industry stalwarts who participated in the panel discussion included: Rahul Tongia, Scholar, Researcher and a Fellow at Brookings India; Satish Jamadagni, Vice president, NPE, Reliance Jio; Neelesh Mantri, General Manager – Innovations, SB Energy (SoftBank Group); Amith Singhee, Senior Technical Manager, IBM Research; Snigdha Singh, Executive Director – Technology Division, Morgan Stanley and Martin Woolley, Technical Programme Manager for the EMEA region, Bluetooth SIG. The session was moderated by Narang N Kishor, Founder, Narnix Technolabs Pvt. Ltd and Chairman of LITD 28 on Smart Infrastructure, Bureau of India Standards.
Kishor opened the panel discussion with his remark, "India as a nation is at the cusp of taking off and smothering the world with our innovations". The discussion followed with panelists sharing their views and opinions.
Talking about blockchain technology, Snighdha Singh mentioned the technology has started shaping things up slowly, and very soon, is expected to evolve into another step higher. She further said that quantum computing is being considered as the next best revolution on the horizon for financial industry. She commented, "As an industry member I am very much enthusiastic to see when quantum computing achieves the desired platform".
The panel discussion will be followed by another round of talk which will focus on the topic "Industry 4.0: Awakening of the third eye with IoT". This discussion will revolve around some intriguing focus areas like; what does IIOT really mean, what are the best practices and elements to implement IIOT and what are the reigning usage trends of IIOT in the industry.
The third panel discussion of the day was on one of the leading modern-day verticals – 'Concept of commercialization of Medical IoT Devices'. Nitesh K Jangir, founder, COEO Labs, took the role of the moderator. The session generated a great informative value through their words by concentrating on the various essentials of developing the medical products. It explained the essence of working in a Regulatory Environment, deep-dived into Clinical Testing of the IoT devices and shared expert tips for productive selling of the medical IoT equipment. Attendees of the discussion, and especially, market players in this domain, came out as winners with golden advices from industry stalwarts.
Another engaging session followed in the form of a discussion on 'Go-to-market (GTM) for IoT: A 4-Dimensional Perspective". IoT solution/product providers are racing to reach out their customers before their competitors and provide an economic yet enhanced customer experience. Keeping this as the central element, the session focused on the key drivers that would help the providers to accelerate in this journey. Abhijeet Ballurkar, Managing Director, Targetorate Consulting, shared his expertise and experience around the subject. He explained the four dimensions that constitute the GTM strategy for their products/solutions – offerings, market segments, channels and revenue streams, and how each parameter impacts the IoT business.
Addressing the audience at the third edition of India Electronics Week, Uma Rani, Assistant General Manager, KBITS said that "KBITS is looking to stimulate the growth of 2000 technology-based startups including 6000 product startups by 2020 in Karnataka." Talking about the upcoming projects she said, "Karnataka government has plans to make Bengaluru a global hub for ESDM sector. The new ESDM policy from 2017-2022 will lead to a revenue a $40 bn till 2022 and it'll create 20 lacs direct and indirect jobs by 2022."
IEW'18 saw another significant session that focused on the topic – 'IOTBRIX – Build, not code IoT devices'. Sridharan Mani, Director & CEO, American Megatrends, took the role of the moderator on this topic. The emphasis was on simplification of IoT development and aimed to share essential information on the trend of rapid development and prototyping. The discussion also explained how an effective IoT product can be brought to life even without coding knowledge if one can put his thoughts to action.
Apart from the various discussion sessions, first day of IEW '18 also witnessed some amazing workshops on hot subjects like smart factory reference architecture, physical computing, building a confidential IoT network, ripping off PLCs and more. To summarize, the first day of IEW'18 came out to be a pot of gold – offering valuable information, suggestions, tips and tricks to anyone who attended the event with the intention of making their business smarter. More knowledge is yet to be offered and more innovations are yet to be explored on the two days of the event that will follow the successful day-one.
About IEW
India Electronics Week (IEW) is a week-long international event held in Bengaluru to promote the Indian electronics industry.
It's a mega event, where the global electronics industry comes together in India. This year IEW is being conducted from February 7th-9th, 2018, at the Karnataka Trade Promotion Organisation (KTPO), Bangalore. Five events are held together under the banner of India Electronics Week this year. These are:
IoTshow.in (3rd edition)
EFY Expo (8th edition)
LEDasia.in (3rd edition)
Test & Measurement India (7th edition)
EFY Conferences (6th edition)
For more information about IEW visit: www.indiaelectronicsweek.com
About Electronics For You
The EFY Group's first magazine, Electronics For You, or EFY, was launched in January 1969, when the Indian electronics industry was still at a nascent stage. Today, it has grown into South Asia's most popular electronics magazine. In fact, EFY Group, which now owns a collection of media properties, has been named after this flagship brand.
The magazine's goal is to keep the electronics fraternity updated with the latest in technology. It also keeps hobbyists busy with the circuit ideas and construction projects it features month after month. And it helps end consumers decide on which electronic product to buy when they enter a shopping mall. The DVD that accompanies each issue of this magazine carries a host of useful software and tools.