IIoT & AI - Things to consider to Integrate
IIoT & AI - Things to consider to Integrate
Get hands-on experience in implementing IIoT and data analytics on it. Technical know-how in knowing the IIoT & AI and the ways and techniques to implement AI in IIoT for data analytics and prediction
Speaker/Instructor: Rajarajan Elango, Founder, Bluetronics
Time: 11:00 AM to 01:30 PM
Venue: Workshop Hall D, KTPO Trade Centre, Bangalore.
Fee: Rs. 2,999/- (Limited seats available)
Objective of the workshop
The objective of the workshop is to have a discussion and technical Hands-on session on IIoT protocols, methodologies and integrating A.I. with IIoT & its industrial use cases.
Who can attend this workshop?
Any participant at the beginner and intermediate level in IoT, who is interested in the Industrial Internet of Things (IIoT) can attend this workshop.
What all will be covered in the workshop?
IIoT introduction
IIoT architecture and protocols
Hands-on session with IIoT protocols and handling data in the cloud.
A.I. and M.L. introduction and impact on IIoT.
Hands-on session with IIoT Use-cases with A.I.
Discussion and links for future practice.
Benefits/Takeaways of this workshop for the attendees
The attendees at the beginner level will have full hands-on Experience with IIoT use cases. The participants will also have exposure to the technical know-how of A.I. for IIot Use cases.
Pre-Requisites for Course
Attendees / Participants should have basic knowledge and work-around about IoT, A.I.
Rajarajan Elango is the founder of Bluetronics, where he talks and works with ROS based Industrial robots and Industrial IoT systems. He has been into Robotics, IIoT, and automation related to R&D services for the past 7+ years. He is also a successful trainer and delivered customized solutions for many corporates like G.E., INTEL, BEL, IICPT, etc. He is member of EtherCAT Technology Group, IAENG, MyRAS, IoT Council Europe, Bluetooth SIG, etc, has been passionately involving in developing customized automation solutions, robots, etc.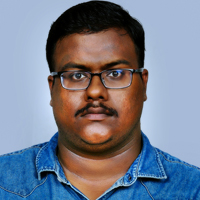 Rajarajan Elango
Founder, Bluetronics