DIY EXPO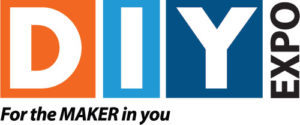 Tinkering, known these days by such nicknames as DIY (Do It Yourself) and the Makers' Movement, is making a dramatic comeback worldwide, enabling you to build, and even invent, viable technological creations of your own. Keeping this in mind, we at Electronics For You, India's leading tech-media group, are aiming to unite, inspire, inform, and even entertain a growing community of resourceful people who undertake amazing DIY projects in their backyards, basements, and garages.
So, if you are from the DIYer/maker, hobbyist, academia, inventor community or you want to explore business opportunities with suppliers to these communities, this platform should be a paradise for you! There's simply no better place than this platform to get up-close and hands-on with today's most innovative technologies and applications. From 3D printing to robotics, and from assessment solutions to educational software, it will host all the leading manufacturers and resellers— each featuring the latest technologies and newest products in the market.
Plus, you can see, feel and experience the latest education technology first hand. And there's a double bonus in the form of a rapid prototyping conference and a new product demonstration zone. Introducing the 1st edition of DIY Expo 2017, which will be held as a part of the India Electronics Week 2017 (2nd – 4th March, 2017 at BIEC, Bengaluru).