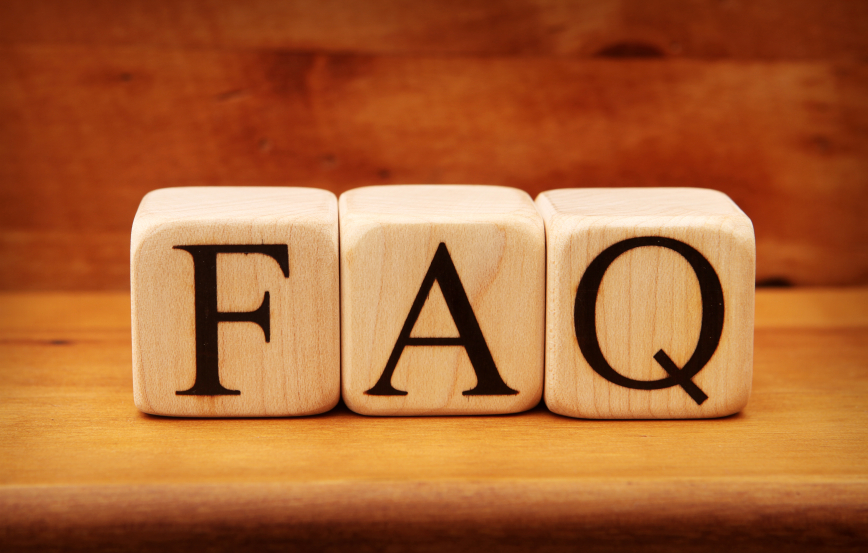 After the success of the first edition of India Electronics Week (IEW), EFY Group brings to you the second edition on the same theme, 'Invest in India,' to celebrate the achievements of India's electronics industry and showcase its capabilities to the world.
To help clear up any queries you may have about this event, here are our answers to some of the most common and frequently asked questions.
Q. What's this event about?
We have spoken to many techies. Most of them don't find value in visiting expos. Their common feedback is that there's nothing new or exciting at industry expositions. That's why we have worked hard to build IEW into an event that techies love to visit — even if it's organised 60 KMs away from the city!
Our secret formula? Focus on what attracts them. Build that. Let them know. And, they surely visit. In 2016, we had 5000+ technical decision makers visiting IEW among the 10,500+ total footfall at the event.
Q. What are the key elements of India Electronics Week 2017?
Much More Than an Expo: IEW hosts multiple tech conferences, seminars and workshops that together create immense value for technical decision makers and influencers to treat IEW as a "must visit" event.
 Electronics For You's Readers: Our flagship magazine is known as the Techies' magazine. Techies are our primary audience. They connect with the brand, and like to visit the event its team produces.
Cutting Edge Topics: IoT, Smart Lighting, Industry 4.0, Embedded Systems, Rapid Prototyping, 3D Printers are topics that form themes of various events happening at IEW. Being unique and cutting edge topics techies find value.
Conferences: We conduct multiple conferences across three days and five halls at IEW. These conferences drive attendance of senior leadership and their key team members at IEW.
Speakers: 200 experts from India and across the globe speak at tech conferences at IEW. These experts form a major attraction for techies to visit IEW. The experts themselves promote IEW amongst their networks and together form a high value segment with respect to visitors of IEW.
Tech Workshops: Workshops are a major attraction for techies at IEW. And, IEW hosts multiple workshops in parallel. These attract quality visitors and speakers too.
Attractions on the Expo Floor: Innovation Zone, Rapid Prototyping Zone, Exciting Products Zone, IOT Zone, LED Zone, Tech Seminar Zone are some of the creative elements we build at the expo floor to ensure that while they come for the content, they discover products and solutions of interest at the Expo floor.
Q. Will the entry for delegates be free or paid?
There will be free passes, as well as three types of paid passes. The FREE passes will have access severely limited to certain tracks and the expo. The paid passes offer a bundle of benefits as detailed in the answer to the next question.
Q. How many types of passes will be there, and how much will they cost?
There are four types of passes. Their benefits are as shown below.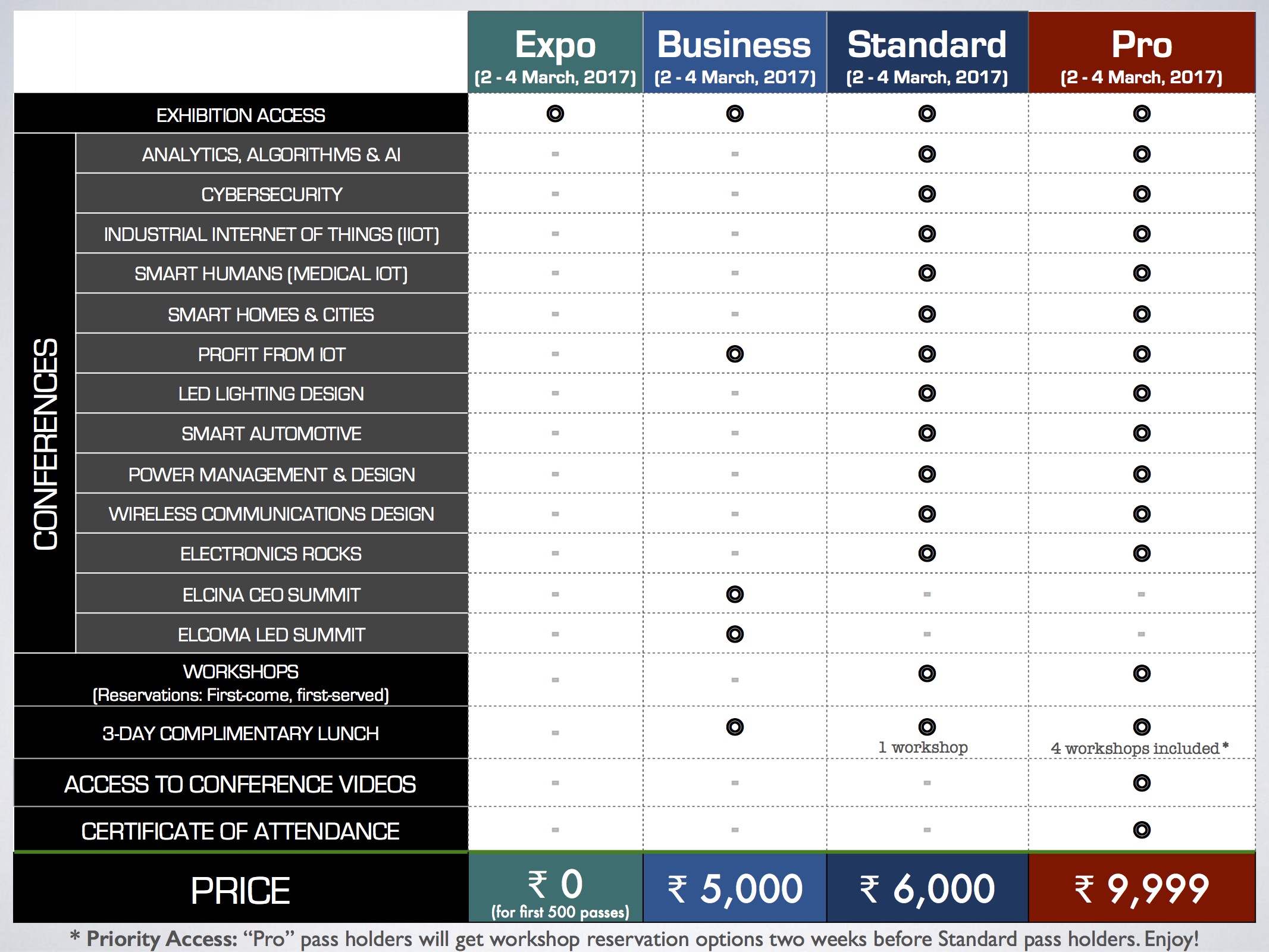 Other information:
Defence personnel: 50% discount across all deliverables
Priority access: Pro pass holders will get workshop reservation options two weeks before Standard pass holders.
Individual workshop passes can also be bought @ ₹ 2,500 each.
Special Discount for Bulk Pass registration
We offer special discounts for purchase of bulk passes. Send a mail to iew@efy.in for any query/request.
| | |
| --- | --- |
| Number of Passes | Discount |
| 5 to 10 | 25% |
| 11 to 15 | 30% |
| 16 and above | 40% |
Q. Why should my firm be an exhibitor or a sponsor of this event?
Here are some of the popular benefits of exhibiting at IEW 2017.
• Cross pollination of business opportunities.
Since there is no physical demarcation to separate the exposition area of the sub-shows of IEW 2017, and the visitors being one way or the other related to technology, business opportunities, through collaborations, are bound to multiply.
• Our conferences attract the Who's Who of the industry.
With various conferences co-located at India Electronics Week, the Who's Who of the electronics industry will converge a speakers or as delegates. Connect with them.
• 50 times more customers!
A typical expo allows you to connect with those customers who visit your booth, but thanks to the EFY Expo Supplement in our monthly publications, Electronics For You and Electronics Bazaar (with a readership of 600,000+), your company's profile and contact details reach an audience that's 50 times larger than any other B2B electronics show in India.
• Zero loss of visitor data
The hassle of managing visitors' data is now eliminated. Simply use bar code scanners and get the data of all the visitors on your desktop.
• Targets south India – one of the country's fastest growing markets
The key decision-makers and influencers of electronics in south India will be at IEW.
• Meet with the BIG buyers
IEW 2016 edition had 17 large buyers with annual budgets of over Rs 1 billion. For 2017, we are targeting 30 big buyers. A fruitful meeting with a good buyer will help you recover your investment, and more.
There may be more benefits available to you, depending on how your team is able to leverage this opportunity.
Q. What are the types of opportunities for organisations or brands to engage with the Electronics Design Engineer Community?
A. While customised solutions can be developed depending on the marketing needs, the following standard options exist for:
* Sponsorships
* Exhibitor booths for brands & organisations
* Exhibitor booths for recruiters
* Demo tables for Innovators
* Surveys/Database Collection
* Distribution of marketing collateral or give-aways
* Dedicated seminars or workshops by brands
* Product Launch / Demo Sessions by brands
Please get in touch with us at [email protected] for more sponsorship details
Q. What do we do if we want to do a bulk/group registration? Are there special rates for bulk bookings?
A. Yes, there are discounts for Bulk Bookings (listed below).
Discount Structure for Bulk Bookings
3 to 5 passes: 5% discount
6 to 10 passes: 10% discount
11 to 20 passes: 15% discount
21 or more: 20% discount
Q. Is there any discount for defence personnel?
A. We have a flat 50% discount for defence personnel. Plus, if the defence personnel come in a group, then they can benefit from the Bulk Booking discounts too.
Q. Is this event useful for students?
Yes and no. This event is useful for only those students who have a high interest in electronics, and want to pursue their career in this fast growing field.
Students might want to check out the workshops at the event. You can find a list of all the workshops at the MasterClass page, which will be published on January 15th.
Q. Is there any electronics body (i.e., ELCINA, ELCOMA, etc.) joining hands with you?
Yes, most leading electronics associations are expected to support this event.
Q. Do you sponsor the speakers (i.e., whether EFY will take care of the to-fro charges)?
We do not sponsor speakers, but can provide accommodation in Bangalore.
Exhibitors & Sponsors:
Q. What kind of workshops will be featured at the event?
There will be 8 workshops at the event per day, each capable of enlightening 40 engineers at a time.
Q. Can my company hold a seminar at the event?
Yes, of course. First, you need to come in as a sponsorship partner, and then book a seminar slot (in multiples of 30 minutes). Once done, your seminar details will be shared on our website so that the audience can register it.
Q. Can we do a product launch at the event?
Sure. The process is the similar to that for the seminar – instead of a seminar slot, you would be booking a much more premium Product Launch slot.
Q. What are the different engagement and marketing opportunities available?
Standard engagement opportunities like exposition booths and sponsorships are available for brands wanting to engage with the audience.
Innovative marketing opportunities like surveys, on-the-spot contests, product launches, brand-centric workshops, brand-centric seminars, press conference, etc, can also be customised as per your marketing goals and budgets.
You are requested to contact us at [email protected]
Q. Can you shed some light on the "innovative branding opportunities" mentioned for exhibitors and sponsors?
These refer to opportunities like hosting academicians, sponsoring event bags, badges, lanyards, becoming our registration partner, or more creative on-the-spot activities like surveys, contests, innovative branding, etc. EFY will help you with these engagement activities by:
1. Allowing you to do activities at different locations of the venue i.e. your staff can move around and conduct the surveys or contests.
2. Help publicise these activities by announcing them during breaks between sessions
3. Help publicise the brand by mentioning them in the event guide